In the spring season, the apparel industry ushered in the fiery business investment activities, China Beauty Network also will continue to grow, more and more new members to join in. In this warm congratulations Laughing fish children's clothing brand to join the Chinese beauty network this family, expanding brand development. With immediate effect, the Chinese Beauty Network will be laughing laugh fish enterprises, brand news related to do current events, and China Beauty website home page to release investment information, so stay tuned! Believe us and laughter fish children's clothing will achieve a win-win situation, create brilliant ! Shenzhen Ruimin Investment and Development Co., Ltd. is a large-scale integrated enterprise integrating design, production and sales. Its "LOL SOURIRE" children's wear products are exported to France, Australia, Japan, Korea, Britain and other European and American countries since 2007 Since its establishment inception, to a unique business philosophy and the French romantic fashion design style in the children's fashion trend dominate. Adhering to the business philosophy of "quality first, service first and innovation first", the company adheres to the management principle of "win-win and win-win" with "a stream of rivers and rivers" and a win-win and win-win principle of taking customer satisfaction as the center, insists on the design of children's life culture The core of children to show the most true side, "the image of the first, service first, the first acting" business philosophy consistently implemented. In order to realize the company's five years as a famous domestic children's wear brand strategy, we accelerate the pace of progress and establish a sound operating system, the implementation of the product 7S certification system: 1 positioning differences 2 style fashion 3 design front 4 price 5 the fine workmanship 6, Fabrics noble 7, excellent version, the successful implementation of the marketing strategy of big shop benchmarking with scientific product portfolio + excellent display techniques + human services + outstanding personnel, merchandise, store management champion business model, through the 5-year direct marketing operations Groping and concluding, the company created an incredible myth that the monthly sales of more than 300,000 yuan a month at a monthly rent of 1,000 yuan, the company has established a number of branches throughout the country, 150 franchisees, stores all over the country far away to Nepal.
As heat resistant materials, Aoshen® Heat-resistant spandex provides excellent processing properties to clients, which are well used for circular knitting and covering with various accompanying yarn, especially suit for the fabrics which request strict dyeing conditions. Its elasticity and strength can remain above 80% after dyeing under 130℃.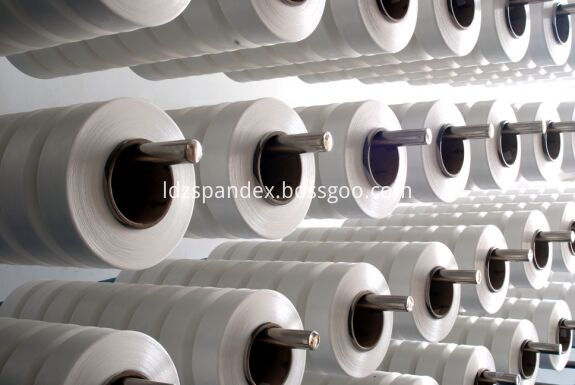 [Technical Superiority]
1. The dyeing temperature can reach 130℃, soaking time is less than 45 min, thermal-setting temperature can reach 185℃, and the action time is less than 50 s (Pilot test is recommended for different conditions of dyeing and finishing );
2. Under strict dyeing and finishing conditions, the spandex yarn in fabric will not be yellowed or get sticky, and its elasticity and strength remain good;
3. Can effectively prevent the spandex yarn from break during dyeing under high temperature.
[Specifications]
15Den 20Den 30Den 40Den 55Den 70Den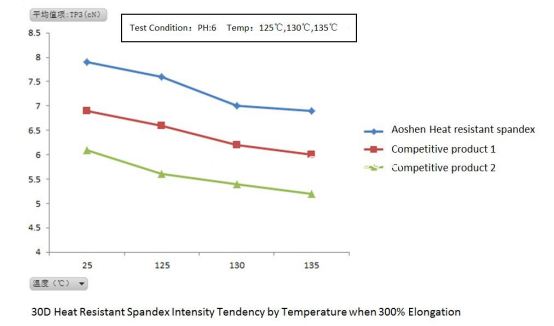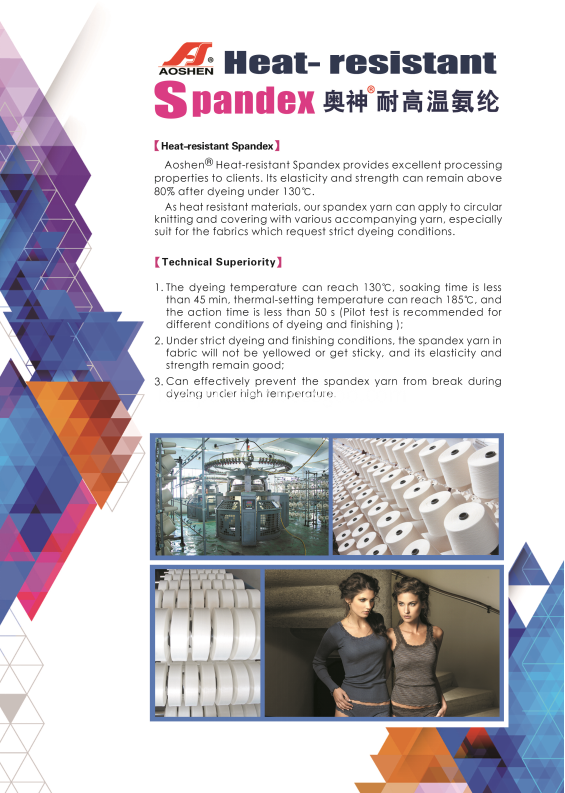 If you have any questions, please contact with us directly. We can provide free samples. Sincerely look forward to our cooperation in the future.
Heat Resistant Spandex,Polyurethane Fibre,Printed Spandex,Polyester Spandex
LDZ New Aoshen Spandex Co.,Ltd. , http://www.ldzspandex.com