October 20-21, 2011, "2011 Shanghai International Underwear Exhibition" was held in Shanghai International Convention Center. LISCA, the top lingerie brand from Europe, was unveiled. Compared with other brands well-known to Chinese consumers, with 55 years of brand history, LISCA, which leads the development of underwear through technological innovation, has drawn more attention.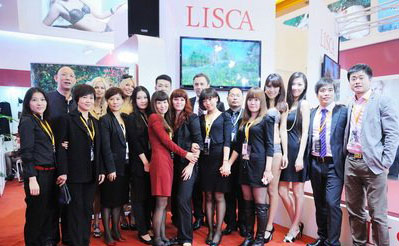 LISCA was born in Slovenia in southern Central Europe, where one third of the area is a protected area, third in Europe with forest coverage, and 1% of the land is planted with vineyards. The beautiful scenery of the sea, mountains, plains and valleys blend with each other to make life The Slovenians among them have always maintained a green, healthy lifestyle. It is this magical land and beautiful landscape that has given LISCA a more unique identity with a focus on health, comfort and quality, and LISCA treats "producing life's underwear and listening to your inner whisper" as a brand soul.

Trace the history of the development of LISCA, no doubt, each design is the soul of master underwear, every innovation has witnessed the transformation of underwear industry. Seventies, Lisca introduced the first three-dimensional bras. The Manuela front buckle had been the best-selling model until the 1990s, and in 1969 Miss Europe Sa a Zajc was the name for this underwear. Another great invention of the late 1970s - Lisca began designing a molded cup bra, which was considered a huge technological innovation at that time. Bra becomes lighter, seamless cup. She makes women's figures more attractive.
In the new decade continue to uphold the spirit of technological innovation; sanitary underwear on the shelves. Cup design using the most advanced technology, such as invisible silicone bra and the most personal bra, to bring the maximum comfort chest. Lisca has become Europe's recognized fashion underwear swimwear brand. More than 80% of the sales are in foreign markets, with more than 600 COM stores and Lisca's products everywhere.
55 years later, Lisca is still sexy, charming and charming. Perfect cut, lace or crystal embellishment, sexy colors, but looming in the mystery, rigorous species highlight the efficient performance. Today, LISCA finally came to China. Over 60 design masters at headquarters studied thousands of Asian women, created their own underwear for Chinese women, and brought the latest series of underwear.
SELECTION models:

Luxury Edition: Wear Swarovski crystal for elegant, intellectual woman tailored. Bold cut, superior fabrics and luxurious details, is the most extreme interpretation of the process. Expensive clothes and handbags always let you fall into the awkward position of thousands of people, only her caring stickers lung spoil you, make you attractive from the inside out!
Fashion models:

Fashion Edition: a combination of creativity and uniqueness, show the delicate profile of women due to bump. Master Suzana Gorisek won the International Underwear Design Award in 2008. An intelligent Bra can automatically adjust the exposed area according to your body temperature. Theoretically when your desire is very strong, rapid heart rate increases, the Bra will automatically reduce the exposed xx. On the other hand, when the temperature changes back to normal, it can recover. The combination of wisdom and beauty, it testifies to the smallest changes in our body, but cherish its close memory with you everywhere.
Natural models:

Natural Edition: environmental protection underwear, cotton, modal, bamboo fiber, soft and comfortable, easy to maintain, non-irritating to the skin. Bring you back to share pure and natural, let your skin and nature breathe.
Cheek paragraph:

Girl's close partner, lively and youthful, dynamic avant-garde, there is always a life to be swayed calmly, youth I come to rule.
Accessories For Women,Hair Jewelry ,Flower Hair Clips ,Hair Barrettes
Centrifugal Pump Co., Ltd.Bandana, Headband & Cravat , http://www.nbscarfs.com